Welcome to
Kingston Yacht Club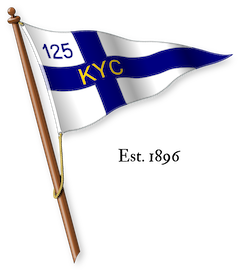 For over a century, Kingston Yacht Club has been a port-of-call for the finest traditions of Great Lake Sailing-and so much more. From sail- to power- to paddle-powered craft, owners and non-owners alike, veterans of the lake to those wishing nothing more than a rigorous swim at sunrise or a refreshing dip at sunset, KYC has it all. And whether it's a summer lunch on the patio with colleagues, a beach-side supper with family, or evening dining with friends as the winds of winter cut a path between last season and next, KYC is home one of Kingston's finest year-round waterfront bistros.
Join KYC
"Go west to sail," it is said, "Go east to explore." And when both sound a tad energetic, grab a book, a cooling beverage and beachside lounger, and settle in to all Your Cottage in the City has to offer. At the confluence of the open fetch of Eastern Lake Ontario and the always inviting 1000 Islands region of the St. Lawrence, KYC hosts biweekly evening races and weekend regattas, as well as a full year-round schedule of cruising fleet outings and rendezvous. Membership has its privileges, including exclusive access to the Club's satellite dock and facilities, two hours downriver, in the very heart of the Islands. Always thought about sailing? KYC offers superb Learn to Sail programs for all ages, opportunities to crew, and member-access to a Club-owned fleet. All of this, wrapped-up in flexible membership categories and attractive rates.
Become a member
On The Water
World-renowned freshwater sailing, world-class coaches, world champions counted among its members and alumni - fun on the water has a very special meaning at Kingston Yacht Club. Young or old, toe-tipping novice or master-level veteran, KYC offers day camps, clinics, and evening, weekend, and off-season training to suit your schedule. No boat of your own? No problem. Join our well-established community sailing club: learn to cruise or race, crew for fellow members, meet new friends, and, when your sea-legs are up to it, sign-out one from the Club's fleet.
Sign up now!
Dining & Social
On the patio, by the beach, or within our cozy, year-round Clubhouse dining room, Kingston Yacht Club serves up a delicious blend of seasonal favourites and daily specials, with emphasis on fresh, locally sourced ingredients. On the run? Much of our menu is also available to go, fresh or frozen. And whether it's "just drinks", or the perfect pairing for the perfect meal, our well-stocked cellar, rotating selection of local taps, and impressive array of top-shelf spirits will be sure to satisfy. ORDER NOW OR RESERVE YOUR TABLE